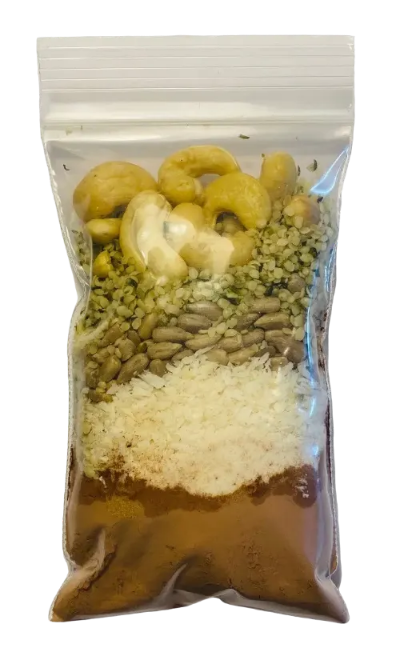 Cacao
Cacao tastes like a rich chocolate shake, yet it is full of nutritious seeds and brain-boosting mushrooms including lion's mane, cordyceps and reishi.
Coconut*
Cashews*
Hemp Seeds
Cacao*
Sunflower Seeds*
Collagen Protein
Psyllium Husk Powder
Lion's Mane*
Cordyceps
Vanilla Powder
Reishi*
Carob*
Cane Sugar
Himalayan Salt
Cinnamon*
 
*Organic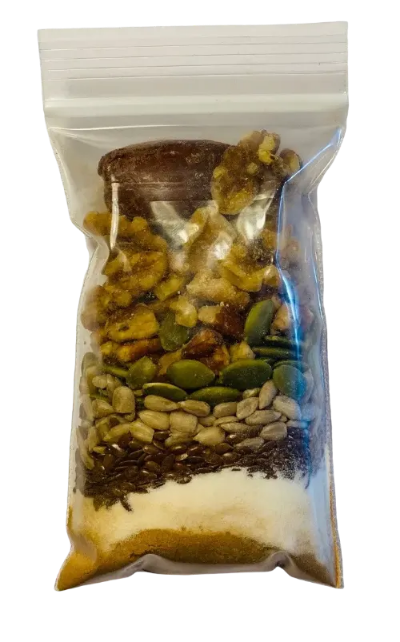 Walnut Date
Creamy and sweet with a hint of cinnamon, Walnut Date reminds us of eggnog and horchata. Minus the junk. The healthy fats, minerals and fiber in this smoothie are certainly worth celebrating.
Walnuts*
Dates*
Sunflower Seeds*
Flax seeds*
Collagen Protein
Pumpkin Seeds*
Pecans*
Maca*
Cinnamon*
Vanilla
Himalayan Salt
 
*Organic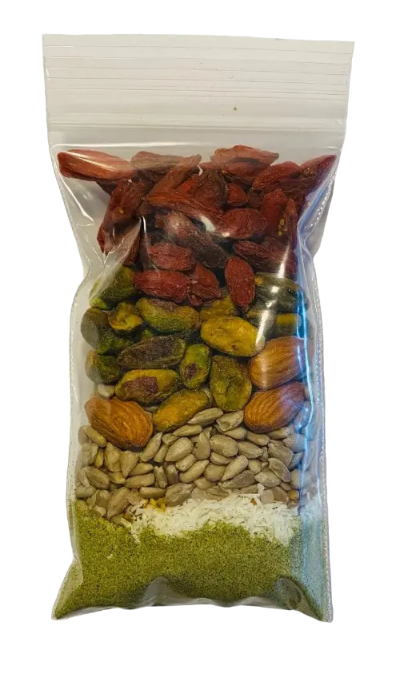 Goji Pistachio
Tangy, and rich, Goji Pistachio isn't a normal flavor combination. But hey, what's normal anymore? None of us is leaving our houses. So, you might as well get some matcha, camu camu, bee pollen and chlorella in your diet.
Pistachios

Sunflower Seeds*

Goji Berries*

Coconut*

Almonds

Collagen Protein

Bee Pollen

Camu Camu*

Himalayan Salt

Chlorella*

Matcha

 

*Organic